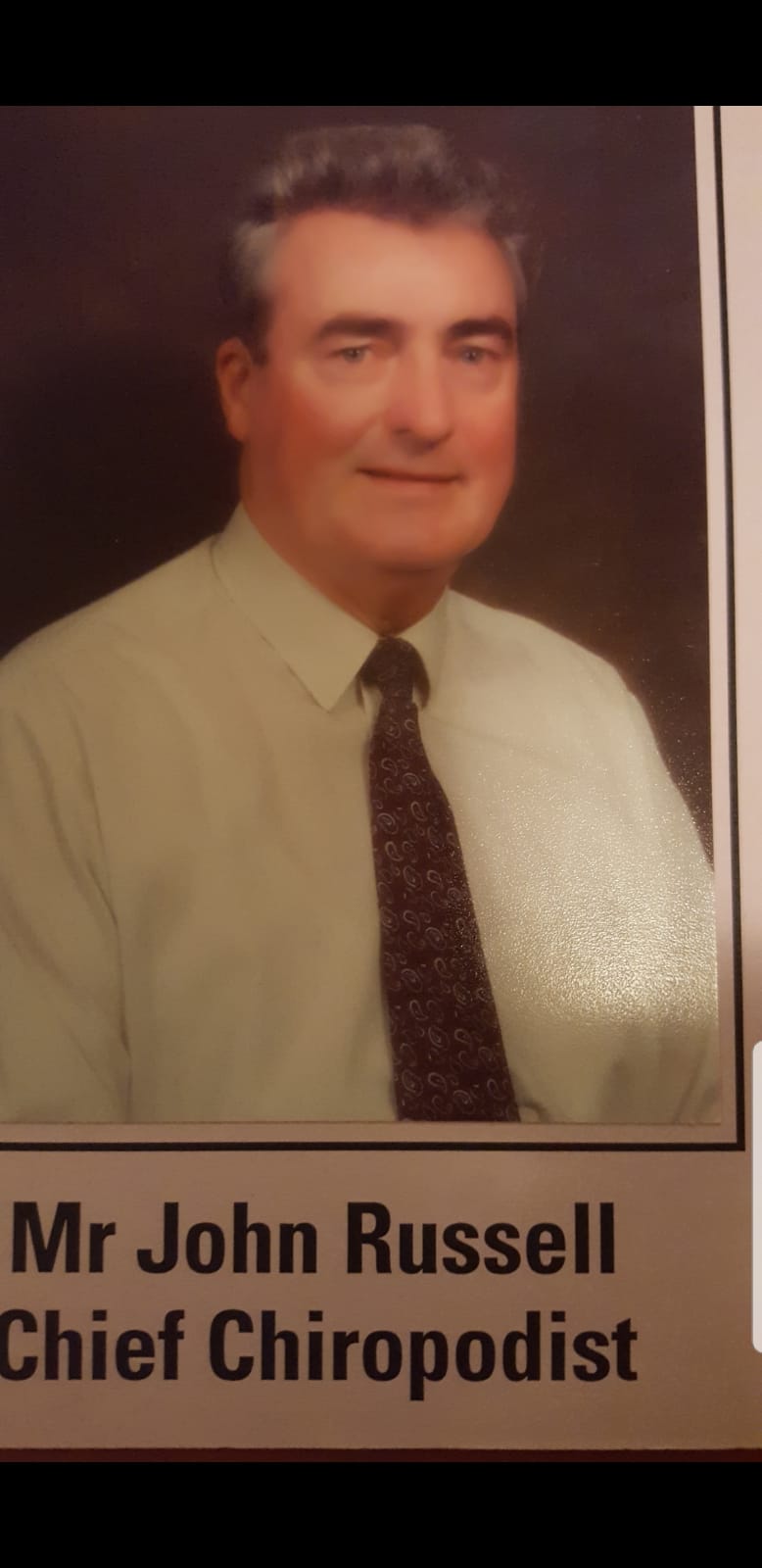 Dad was born in the mining village of Cardenden on 15th October 1937, the first of two children to Jack and Mary Russell His father was a miner at the local pit and it's reasonable to assume that Dad's early childhood was not one characterised by luxury, not least because of the hardships that were to follow during and after the second world war, which started a month before his second birthday.
He spent many days during his formative years with his maternal grandfather, who introduced him to the art of fly-fishing, but only after he had learnt to tie his own flies and to cast properly, which he practised on the football pitch at the side of the River Ore. He knew of all the good pools on the river – and on the Fitty, down the 'Meedies' and every other bit of water in Fife – treasured information passed down from generations – something he put to good use.
I was with him many years later, in a reversible role, when he hooked an enormous brown trout at the 'meetings' – where the Fitty joins the Ore at Glencraig and it took nearly ten minutes to land. It was a monster, almost 5lbs, dark brown with big hooked jaw and I was too scared to go near it. I was only nine or ten at the time, but I remember him telling me about the pool and that his granddad once told him about the fish that were to be had under the branches of the trees on the opposite bank.
He was a creature of habit and kept to a fairly rigorous routine, something that was evident from an early age. His little sister, Irene, remembers Dad taking her to the village cinema where they used to sit in the same two seats every week. Woe betide anyone having the temerity (or stupidity) to sit in them before they arrived. There would be no reasoning with him. Thrawn wasn't the word for it!
As a teenager, Dad attended Auchterderran High, where his prowess on the sport's field outshone his academic achievements by a margin. That is not to say he was lacking in the classroom – far from it – but it was his athleticism and skills on the football field that were to combine into something truly remarkable. He made his first appearance for Dundonald Bluebell – the local Junior team – when he just turned fifteen and soon gained a reputation for being a fearsome tackler with a great turn of speed on the wing.
It was 1953. In March, he was selected to play for East of Scotland -v- Sunderland in the senior schools competition at his favourite position of right back. The inside right for Sunderland was Robert Charlton, better known, of course, as Bobby – and the pair were to meet again a few months later at Filbert Street in Leicester in the Schools Home Internationals. Bobby went on to be one of football's greatest ever players – and whose goals will live on in the memory of everyone that ever loves the game, far beyond Manchester. But he didn't score in either match back then. "I didnae let him" was the only boast I ever recall Dad making.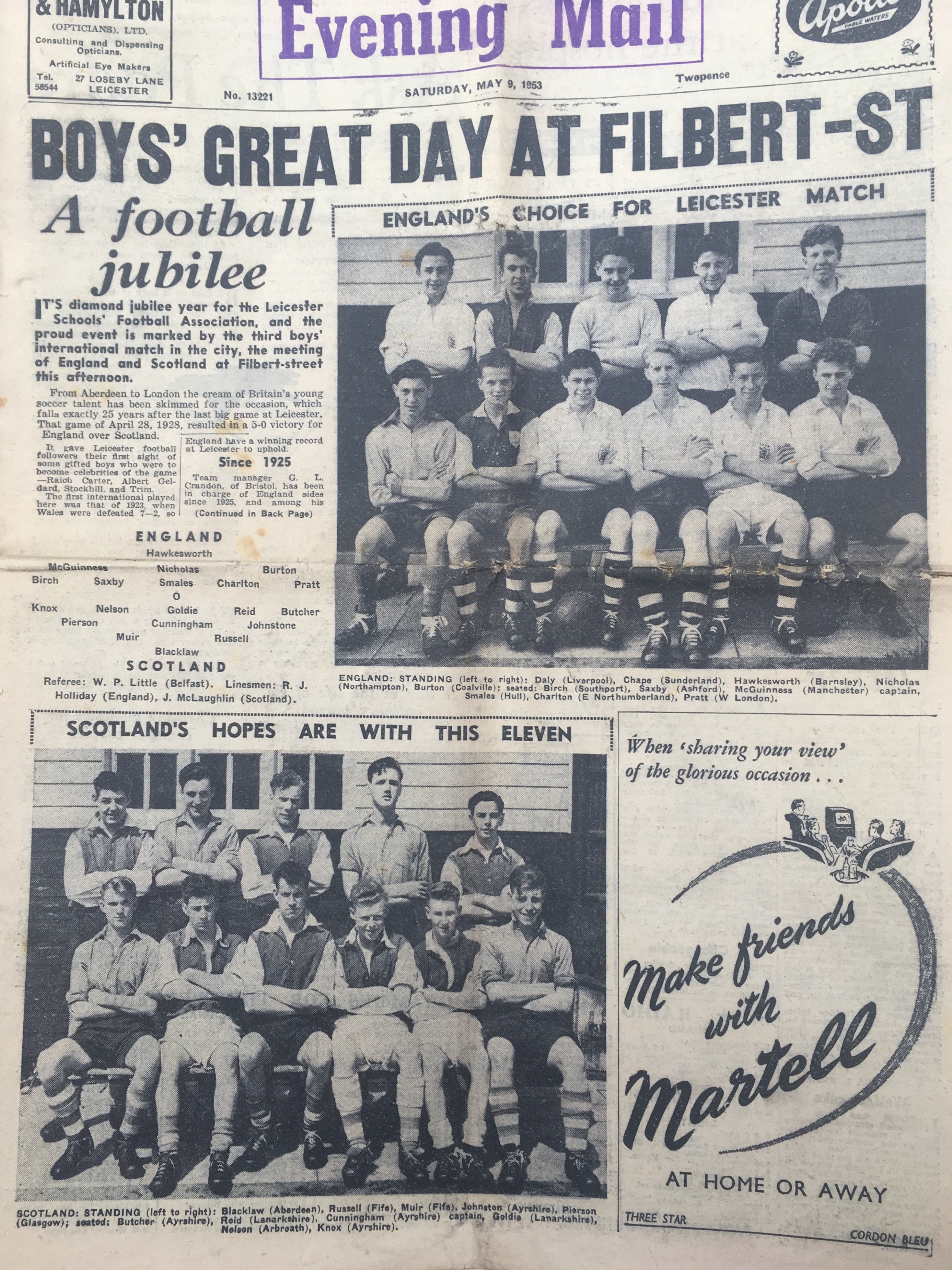 Dad played against Wales the following week and the young Scots went on to win 2:1 – then went on for trials with Liverpool and Hearts but a change in circumstances at home following his parents' divorce took him in a different direction. A career in football then didn't provide the security in the game today. Bobby (Charlton) trained as an electrician and Tom Finney (who was a patient of mine many years later) as a plumber – something to fall back on if they didn't make it or were injured. As the new breadwinner at home, Dad didn't have this latitude – so he gave up football and instead started a sales job in the Cooperative Shoe Shop in neighbouring Lochgelly, where a young girl by the name of Anna MacDonald worked in the ladies section. They were soon an 'item' in today's parlance and one that was to endure.
The following year saw Dad enlist in the army as part of his National Service, which he served with 2 Para in the Middle East – first in Egypt during the Suez Crisis and then in Palestine. During his 'square bashing' at Aldershot, he was 'volunteered' as the Foot Orderly for his troop – an essential role to combat the crippling damage inflicted on squaddies feet during route marches from the army issue boots.
Blisters were soon his forte. It was, in hindsight, an unlikely apprenticeship and the start of another journey – one that would last for many years and lead him into a career, where he would continue to provide relief and comfort to many others that sought his skills and care.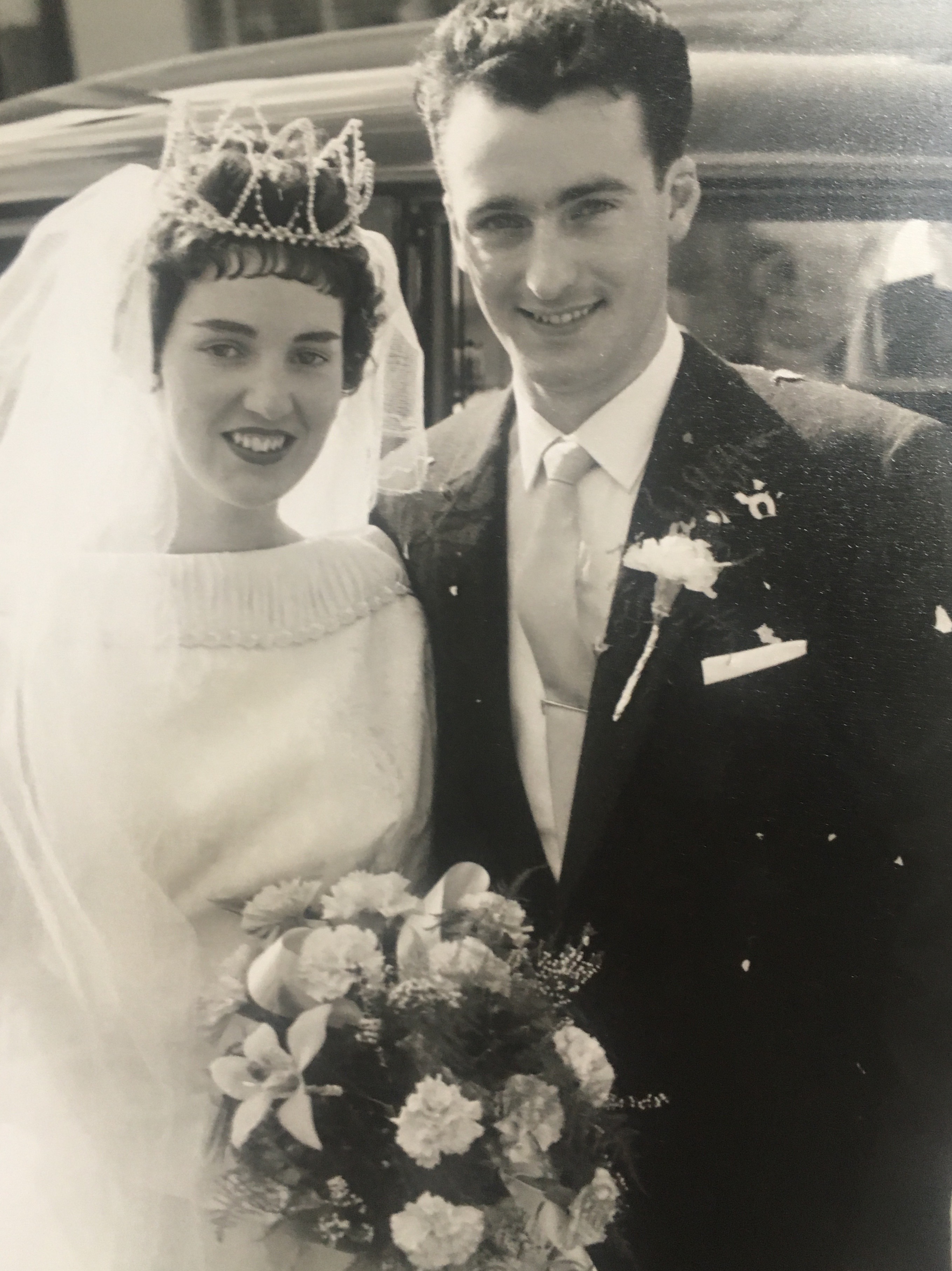 In September 1960, John and Anna were married at St Andrews Church in Lochgelly and the following year, he opened his first chiropody surgery in the Main Street next to the Cross. I made my appearance a few months later and was a regular visitor in the practice by all accounts and some of my earliest memories are of Dad sitting in front of an old lady's feet, the black Bakelite telephone with the two buttons and an overpowering smell of Dettol and TCP.
In 1966 the local Council introduced a chiropody scheme for old folk and Dad was asked to join the team, which was headed by Jim Ivers, a chiropodist from Northern Ireland. The following year, the NHS took over the service and Dad started work at the newly built Rosewell Clinic in Lochore and closed the Main Street surgery. But he kept his private practice running in the evenings, doing home visits most days after work and on Saturday mornings too. His services were always in great demand. Football would have been a gamble, but chiropody provided Dad with everything he needed and ever wanted – security, respect and the satisfaction of doing a good job.
We were all fortunate as a result. In April 1965, Mum arrived back from Kirkcaldy one afternoon carrying a tightly wrapped bundle with a shock of blonde curls at one end and suddenly I had a wee sister to entertain and play with for a year before I started school. A few months after Susan was born, we moved from a shared rented cottage in David Street to a brand new council house in Stewart Crescent, where we grew up and where Mum and Dad would spend the rest of their lives.
Our childhood was idyllic – a strange thing to say all things considered. Lochgelly was different back then – a working-class mining village for sure, but proud, ambitious and hopeful too. Dad's job provided us with not only the staples, but also many of the luxuries he could only dream of as a child – holidays all over Scotland and everything we needed at home. His first car was a Hillman Minx followed by a run of Austin Maxi's, which he loved. This was mostly down to the fact they could accommodate everything Mum would take on holiday with us – which was most of the house bar the furniture.
Oban was a favourite destination and became a regular haunt twice a year during the summer and autumn holidays. Dad had a patient that owned the caravan site in Benderloch and we spent many enjoyable weeks there. During the really hot summer in 1976, Dad took a notion to climbing Ben Cruachan after a day trip to the hydro scheme at Loch Awe. A few days later, we were sitting on the summit looking down on Loch Etive under clear blue skies.
It was a special day – the first of many in the mountains for both of us. The next few years would tick off many Munro's all over the Highlands and what started as a holiday adventure, soon became a regular weekend feature.
Dad joined Lochgelly Bowling Club in 1960 and with both Mum's parents they soon became regular names on trophies and club championships. He played at Lochgelly for 48 years until Mum's death in 2008 and was regularly selected to play for the county team over the years. But he was modest and an intensely private man too. He didn't like a fuss and certainly didn't crave the limelight.
I only found out about his football history when I was a teenager and went rooting one Saturday afternoon in the attic and opened an old suitcase I hadn't seen before. The first thing I saw was his Scottish Cap – then a pair of leather-studded football boots and horsehair shinguards – and not for the last time thought, "who is this man that's called, Dad?"
When I played football for the school team, he would come to every game and stand quietly on the touchline and only make comment afterwards, if at all, but when he did, it seemed to make sense. But I had no idea. He was a season ticket holder at Dunfermline for a few years and used to take me to the home games on the supporter's bus. It was the era of Willie Callaghan, Alex Edwards, Jock Stein – we watched many great games at East End Park and internationals at Hampden and he'd dissect the game on the way back home in the car or on the bus and I just used to sit and smile. What the heck did he know about football, after all?
That's just how he was. After nearly two decades at Rosewell Clinic, Dad was promoted to District Chiropodist in Dunfermline where he worked in Carnegie Clinic managing the chiropody team in West Fife, until his retirement from the NHS in 1997. He kept his private practice running for another decade though and continued to 'do the feet' of many in Lochgelly, including some that first visited him in the Main Street shop almost half a century before.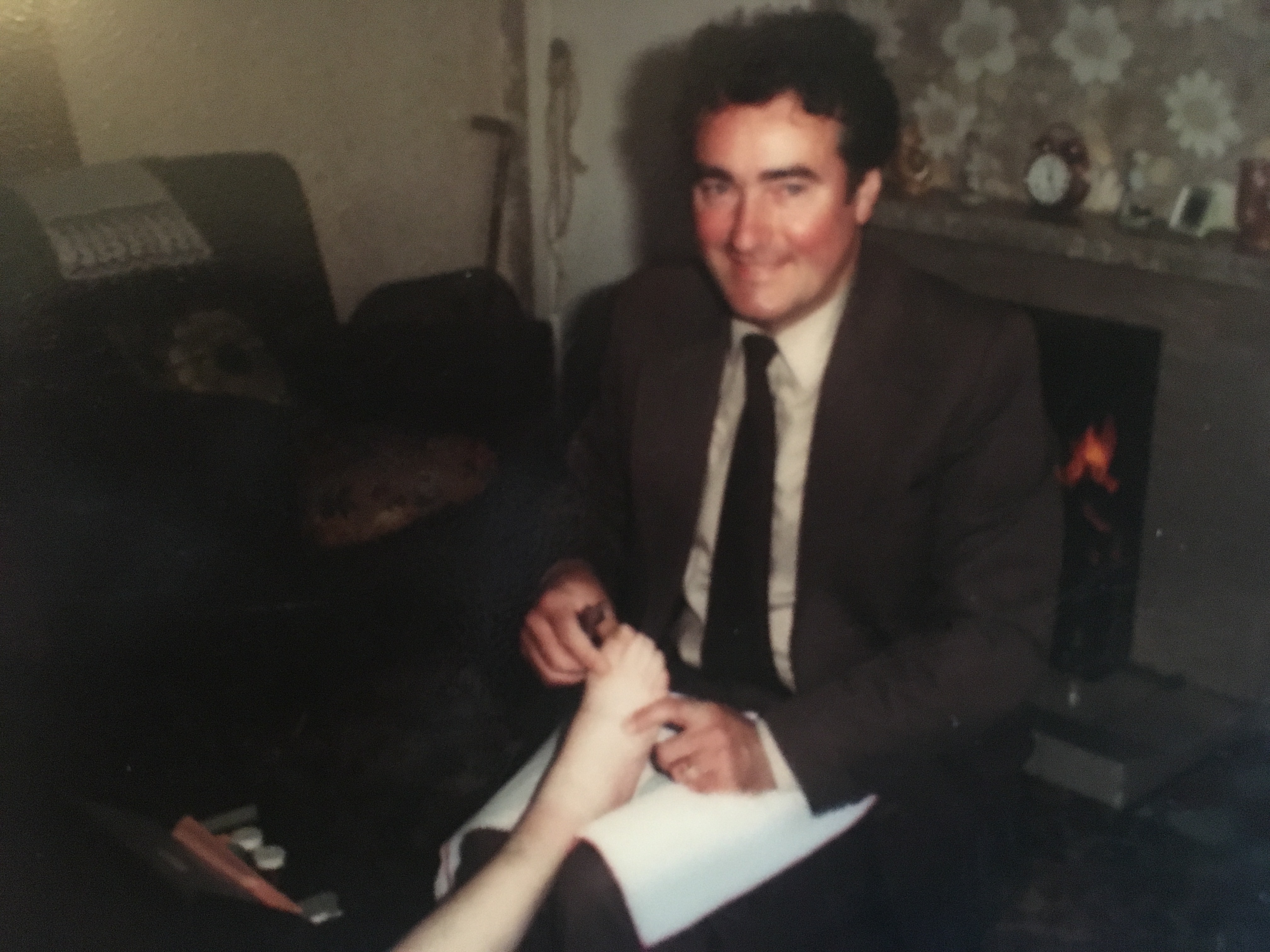 With Anna, Dad found his perfect partner – they really were a beautiful couple in so many ways – and they complimented each other in every respect. It was an enduring romance but like all good relationships, the ending was always going to be hard to bear. When Mum was diagnosed with MND in 2007, Dad found it hugely difficult to accept, which is not in the least surprising. When she passed a year later, a big part of Dad left too – and that set the scene for the remainder of his journey.
Dad liked Soor Plooms and Barley Sugars. He whistled tunes that sounded like the Clangers and clucked his tongue like Skippy the Kangaroo. He loved music though, especially The Corries and he was a life-long Nationalist, long before it became fashionable. A brilliant smile and an avid reader throughout his life. His favourite story was Geordie – about the young boy who won a Gold Medal at the Commonwealth Games in New York.
I wonder why?